Knowledge Maturing - Creating Learning Rich Workplaces for Agile Organizations
Submitted by

andreas.schmidt

on Sat, 10/15/2011 - 21:11
10 Years Anniversary of Knowledge Maturing Model at I-KNOW 2015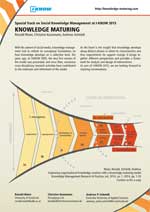 At this year's I-KNOW 2015 conference, we are celebrating the 10th anniversary of the first knowledge maturing model publication with an invited special track on Social Knowledge Management. Ronald Maier and Andreas Schmidt, supported by Christine Kunzmann have organized the special track.
For this special occasion, we have created a collection of key publications and other materials. You can either get it on a stick at I-KNOW in Graz or here as a zip package. It contains the latest version of the model, but also its applications to various domain, ranging from ontologies, competencies, software engineering to design pattern development processes.
Read the summary of the track with photos of the presenters and organizers and the slides.